+0.75
Government accountability measuring pupils across eight key subjects.
Secondary School of the Year
Greater Manchester Schools Awards 2018.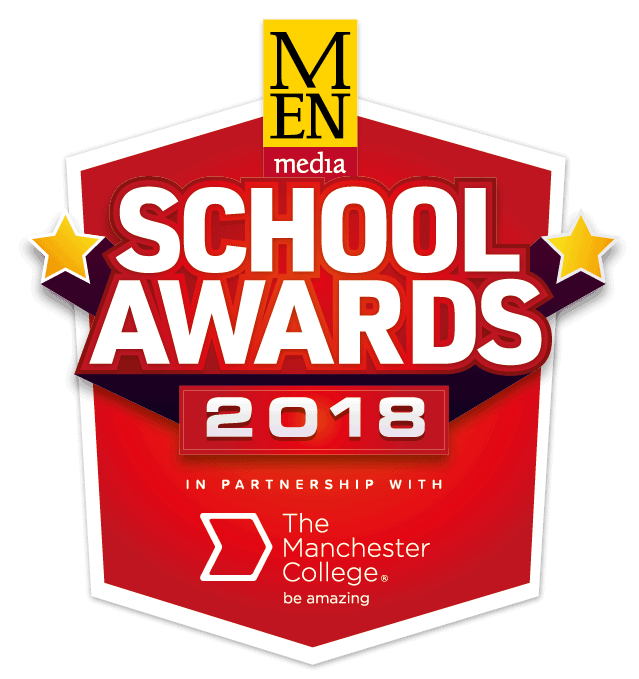 Parent Power list 2022
146th school in overall UK rankings.
Top comprehensive non-denominational non-selective state secondary in the North West.
The Real Schools Guide 2020
In the top 10 secondary schools in Greater Manchester.
Examination Results
GCSE
The 2019 GCSE results saw:
• 82% achieving grades 9-4 in English and maths and 67% achieving the gold standard of a grade 5+ in English and maths. This keeps the school at the top of the tables in Stockport.
• A Progress 8 score of +0.75, this means that on average across all GCSEs our students achieved three quarters of a grade higher than their peers nationally.
• 55 students achieved straight 9-7 grades
• 41% of all grades were at 7+
Particular congratulations go to the:
• 11 students who achieved seven or more grade 9s
• One student who achieved straight 9s across the board
A Level
The 2019 A Level results saw:
74% of all grades awarded at A*-B
7 students achieve straight A* grades in at least 3 A Levels
21 students achieve straight A and A* grades in at least 3 A Levels
an overall average point score per student of 123.2
an overall average point score per student was 41.29
an overall average grade per entry was grade B.
Overall Value Added score of -0.08
100% student retention rate
Destinations of the Class of 2019:
56% of students went to Russell Group universities
63% of students went to Sutton Trust Top 30 universities
Destinations of the Class of 2020:
60% of students went to Russell Group universities
71% of students went to Sutton Trust Top 30 universities
Destinations of the Class of 2021:
72% of students went to Russell Group universities
75% of students went to Sutton Trust Top 30 universities
"The rates of progress made by students in English and mathematics from the time they enter the school in Year 7 and their GCSE examinations in Year 11 are very high, compared to those seen nationally. For example, in the latest results 81% of students made expected progress compared to 70% nationally and 41% made more-than-expected progress compared to 32% nationally in English. In mathematics, the rates of progress were even higher with 80% making expected progress compared to 65% nationally, and 43% making more-than-expected progress compared to 29% nationally…. A large proportion of the most able students reach the highest possible A* and A grades in their GCSE examinations and across many subjects in the school, including English and mathematics. The proportion attaining these grades is higher than that found nationally. For example, in 2013 over twice the national percentage of students attained A* or A in English… AS level results are higher than seen nationally and current progress for those students who continue into Year 13 is high."