Cheadle Hulme High School has been praised in the national press for its 'astounding' A-level results.
According to data taken from The Sunday Times Parent Power Schools Guide for 2019, published this weekend, our school is the 16th best-performing comprehensive school in the entire country.
Alastair McCall, Editor of Parent Power, said: "Cheadle Hulme High School, in Stockport, achieved astounding A-level results with 77.2% of A-levels gaining A*, A or B grades. Almost one-third of sixth-formers achieved three or more A* or A grades and 60% of the upper sixth won places at Russell Group universities — results that would make any school, state or independent, proud."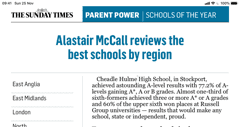 And he added that in the regional top 20 several comprehensives feature, often with results at sixth-form level that challenge their selective rivals.
We are delighted to feature so highly in The Sunday Times' annual survey and proud that we are making further steps towards levelling the educational playing field.